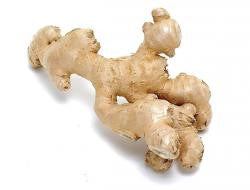 Aroma Paradise
GINGER ESSENTIAL OIL
The benefits of ginger for relieving pain are widely known today, and while I prefer using fresh ginger (eaten raw, grated into your vegetable juice, or steeped into tea), using ginger oil can provide these wholesome benefits as well.
When used topically, ginger oil can help relieve aches and pain, as well as promote normal blood circulation.
Aromatherapists also value ginger oil's soothing and warming qualities to help address digestive problems. In fact, this is one of ginger oil's most popular uses: relieving any kind of digestive upset, such as nausea, indigestion, diarrhea, gas, and even morning sickness.
Here are some ways to use ginger oil for various health problems:
Apply two to three drops in a diffuser, or place on a cotton ball or your handkerchief, and then inhale. This will help reenergize and revitalize your body, mind, and soul.
Mix two to three drops in an ounce of carrier oil, and use as a massage oil. This helps relieve backache, arthritis, muscle pain, rheumatism, and fractures, as well as stimulate your circulatory system and revitalize your libido. You can also add it to your hot bath or put a few drops on a hot or cold compress, and then apply it to the affected areas.
Inhale via a diffuser or vaporizer to relieve sinusitis, sore throat, and runny nose. It can also work as a decongestant.
Massage a drop into your abdomen to relieve gas and diarrhea.
---
Share this Product
---
More from this collection